Faux Brick Concrete Driveway in Melbourne
Faux brick Concrete from $95/sqm
If elegance is an option you are after then you can not look past our decrotive faux brick with a combination of vast colors to choose from. With multipale colours to choose from you can acheive your desiered look and pattern to suit your home. With stunning features like rosettes you can surly make your entertaining area stand out from the rest.
Benefits of Faux brick Concrete Driveways
• Simple to clean
• Multiple Patterns
• Brick style finish
• Vast array of colors
Faux brick concrete can be used for:
• Patios
• Pathways
• Carports
• Afresco Areas
• Pool surrounds
• Spa areas
• Driveways
Choose from 22 Patterns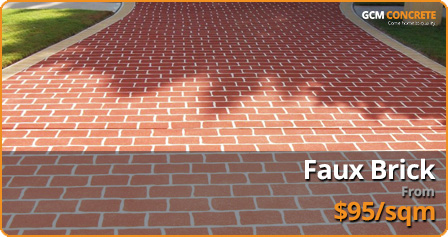 *The sample colours illustrated are simulated to match the actual product as close as modern monitor colours will allow. Some variation in shading may occur, depending on the job conditions.